Until very recently, anyone who wanted to distribute or edit video contents had to do so using tape. Now, Asset Management and Distribution systems developed by Anglatècnic avoid tape-based editing and distribution altogether. Digitalised videos allow the use of computer-based editing and/or distribution using IP networks.
General features:
Universal access over the Internet from anywhere with web access. Standard IP protocols are used for this purpose. The user interface uses HTTP (Web) protocols.
Independence from the work setting. Access to the environment is not tied to a given Hardware and Software. Use of open standards ensures that anyone can access the environment with any device (PC, 3G Mobile, etc.).
The netClip system allows audiovisual content to be exchanged over connected IP networks. The exchange is performed through a Web interface in which the user can search for videos, consult a list of those available, and purchase items.
Main features:
Users can upload and download videos to/from the server, transcoding them to the desired format. h264 video codec is used at the server in order to store and download the videos. This opperations are performed in the background, so the user can keep working.
Assets are used to catalogue the videos with their metadata and associated files.
Each asset has different instances, such as high quality, low quality, keyframes…
Search engine using metadata information and results shown in a list view or grid view.
Processes can be programmed and automated, such as low resolution video creation or asset deletion to save disk space.
User e-mail notifications: new available video, new user, video deleted, processes finished…
Profile and system administration.
Download limit deppending on the user profile.
Cloud based video and associated files storage.
Generation of custom reports.
Middleware ensures the netClip system can communicate with any MAM (Multimedia Asset Manegement) system.
CASTMONITOR is a system for remotely monitoring analogue TV, digital TV, and FM radio signals. Target users include broadcasters, audiovisual watchdog bodies, and broadcasting network operators.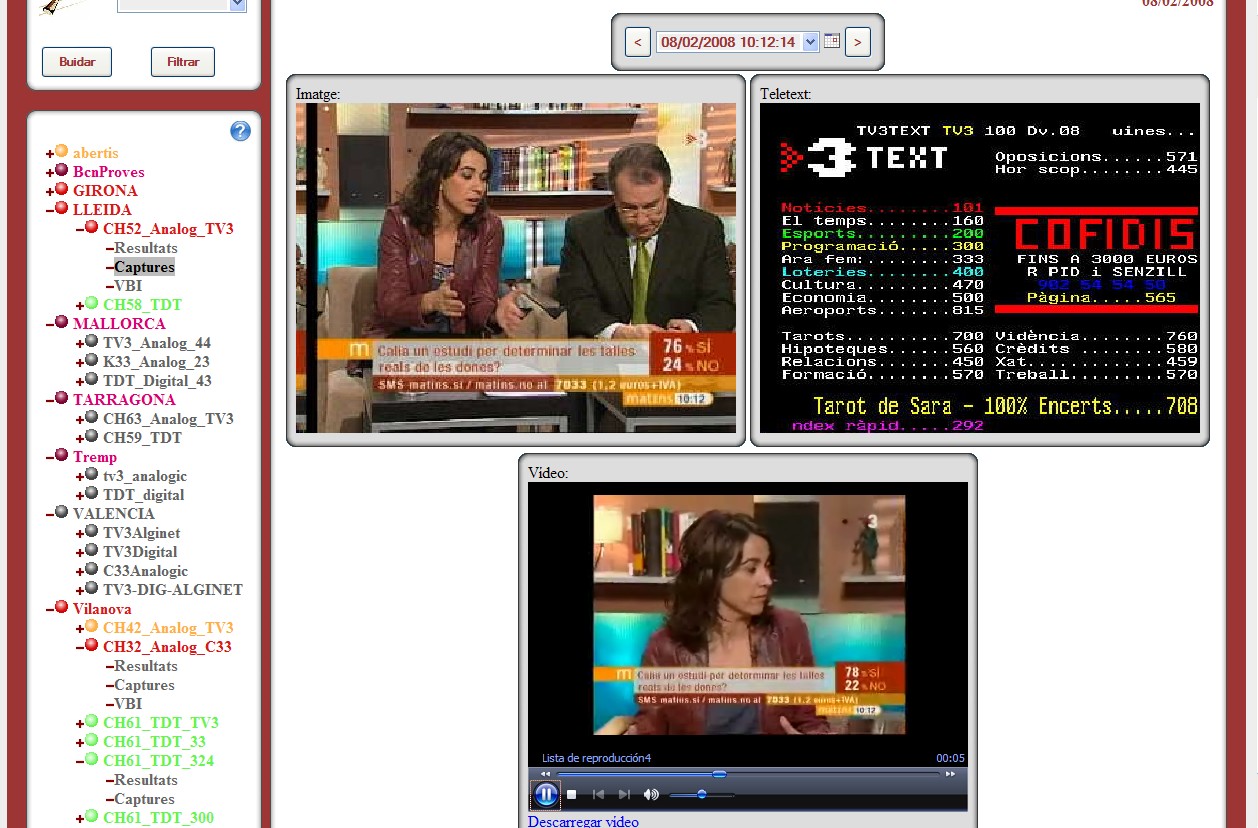 System architecture:
The system comprises a central server and various measurement units distributed in the area covered by the signal to be monitored. The server provides a web application so that authorised users can monitor broadcast signals and manage measurement units.
The measurement units receive orders from the server, which executes these, generating captures of content and signal quality which are sent to the server later on.
The server stores all the information generated by the measurement units as well as system maintenance data: users and permissions, broadcasting centres, alarm management and so forth. All of this information is published in the system's web-based environment so that it can be accessed by the whole organisation, allowing control of content through stored content and using the signal measurements to ensure quality control of broadcast signals.
General feature:
The system measures radio and electrical parameters of the monitored signals. Alarms (e-mail and/or SMS) can be triggered if the signal fall outside chosen parameters.
Recordings of video, audio, teletext, interactive content can also be programmed for DTT, analogue TV and FM radio.
Recording of programmes among a period of time in order to analyse its contents.
Real-time remote display and/or sound of content through compressed streaming. The stream quality can be configured as desired (MPEG4 for video and MPEG1 Layer 3 for radio).
Analogue TV features:
Levels of video carrier, chroma carrier, audio carrier.
Details of video/audio carriers.
Type and level of carrier for each audio signal.
C/N details.
Measurement of the levels of adjacent channels.
Video frame capture.
Teletext frame capture.
Video sequence capture.
Programme capture among a period of time.
Video streaming.
Capture of VBI test lines.
Digital TV functions:
Level of digital signal.
BER.
Find the channel servicies.
Capture of video frame from a multiplex system.
Capture of video sequence from a multiplex system.
Programme capture among a period of time.
Multiplex streaming.
Capture of a multiplex service Transport Stream.
FM Radio features:
Level of FM carrier.
Measurement of RDS parameters.
Capture of audio sequence.
Programme capture among a period of time.
Audio streaming.
Measurement unit:
Each measurement unit comprises a field measurement unit and a PC with the hardware and software needed to provide TV and radio functions. Programmed measurements may be set at irregular intervals or at fixed times. The unit – depending on the hardware installed – can deal with multiple captures from TV and radio and of radio and electrical measurements simultaneously.
Central server system:
The server system includes a database, an FTP server and a web server. This allows various communication and management tasks to be carried out on the measurement units and to download, store and publish the results.
CAST MONITOR's web application is the interface that allows users to manage the measurement system and to consult the results. It provides control over the measurement units through colour codes and a map showing their location.
The web interface is used to programme recordings of the different qualities of video and audio signals The interface can display measurements and both TV and radio captures, as well as real time broadcasts (in this case, the units stream the signal).
User access to system features is regulated profiles and permissions which are all wholly configurable through the web interface.
CAST MONITOR allows thresholds to be set to decide which quality meansurements meet requirements. This allows alarms to be set. The alarms may be notified through the following three channels:
Web publication.
e-mail and SMS.
GPI ModBus protocol.
Benefits:
Monitoring and recording of analogue TV, DTT and FM radio in one system.
Advanced measurement functions and configuration flexibility.
The system architecture can be scaled to cover the number of measurement points required.
Provides excellent control over broadcast content.